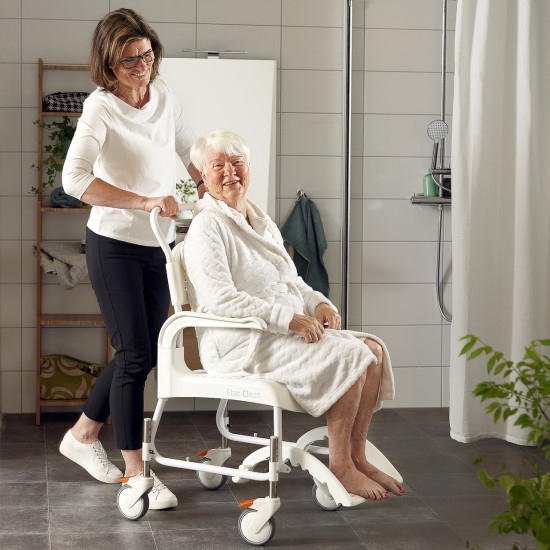 Stock:

In Stock

Model:

80229208

SKU:

80229208

etac
Etac Clean Height Adjustable Shower Commode
Description

Introducing the Etac Clean Height Adjustable Shower Commode
Experience the future of commode chairs with the Etac Clean Height Adjustable, a sleek and modern solution that redefines functionality and convenience. Building upon the exceptional standard of the Etac Clean, this innovative variant allows you to personalize your seating experience by adjusting the seat's height to your preference, ensuring a tailored fit for every user.
Key Features

Adaptable Design: The Etac Clean Height Adjustable ensures a perfect fit over the toilet, making transfers smoother and hassle-free. Say goodbye to cumbersome adjustments, as the height can be easily tailored to your needs without the use of any tools.
Enhanced Comfort:
Unlike its counterparts in the Etac Clean family, this model offers a broader range of foot and calf supports, enhancing user comfort and support during use.


Specifications
Colour: White
Commode Width:
54cm (21.2 inches)
Width Between Arm Supports: 43.5cm (17.1 inches)
Seat Height Range: 47.5 - 60cm (18.7 - 23.6 inches)
Seat Width: 48cm (18.9 inches)
Seat Depth: 44cm (17.32 inches)
Space Below Seat:
- Without pan holder: 42 - 54.5cm (16.5 - 21.4 inches)
- With pan holder: 40.5 - 53cm (15.9 - 20.8 inches)
Weight: 14.2KG (33.5 Pounds)
Maximum User Weight: 130Kg (20 Stone)
Fits Over the Toilet


User-Focused Adjustments
The entire chassis, including the footrests, can be effortlessly adjusted, ensuring a comfortable and personalized experience for users of all heights. Additionally, the footplates can be extended or retracted to accommodate different user heights, making this operation a breeze.


Built to Last
Constructed with high-quality materials, the Etac Clean Height Adjustable features a powder-coated steel tubing chassis, with polypropylene seat and back support, arm supports, and foot support. The castors are engineered for durability, featuring polyamide, TPE, and stainless steel tubing, with stainless steel castor height adjustment tubes.
Elevate your daily routine and enjoy the utmost convenience and comfort with the Etac Clean Height Adjustable Shower Commode – a forward-thinking solution for modern living.