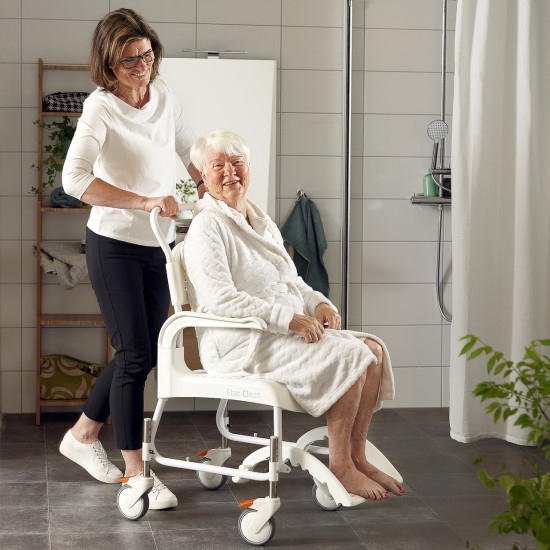 Stock:

In Stock

Model:

80229208

SKU:

80229208

RRP:

£448.20

etac
Etac Clean Height Adjustable Shower Commode
Etac Clean Height Adjustable Shower Commode
The Etac Clean height adjustable commode chair is a stylish, more modern and forwarding thinking commode.
In addition to the excellent standard model of the Etac Clean, this variant allows you to adjust the height of the seat for personal comfort. The possibility of adjusting the seat height means that the Etac Clean Height Adjustable can be tailor-made to suit the user's needs.
The new Etac Clean Height Adjustable will make sure it fits perfectly over the toilet and makes transfers easier. The height adjustment is simple with no tools needed! Not only is it height adjustable it also has greater range of foot supports and calf supports compared to the rest of the Etac Clean family.
The key features of this commode chair is:
Commode Width 54cm/21.2inch
Width in between the arm supports 43.5cm/17.1inch
Chair height ranges from 47.5 - 60cm (18.7inch - 23.6inch)
Seat width is 48cm/18.9 inch
Seat depth is 44cm/17.32 inch
Space range from floor to underneath the seat

without pan holder 42cm - 54.5cm (16.5inch - 21.4inch)
with pan holder 40.5cm - 53cm (15.9inch - 20.8inch)

Weight 14.2KG/33.5 Pounds
Maximum user weight 130Kg / 20 Stone
What moves when adjusted?
The complete chassis moves up and down including the footrests. One is a further benefit to this chair is that the footplates can be extended or retracted, depending on the height of the person. This operation is easy to do.
Material
Chassis: Powder coated steel tubing
Seat/Back support: Polypropylene
Arm supports: Polypropylene
Foot support: Polypropylene
Castors with ball, bearings:
Polyamide/TPE/Stainless steel tubing
Castor height adjustment tubes: Stainless steel
Features
Fits over the toilet

Easy access from rear to clean the service user

Foot support designed for supporting feet better