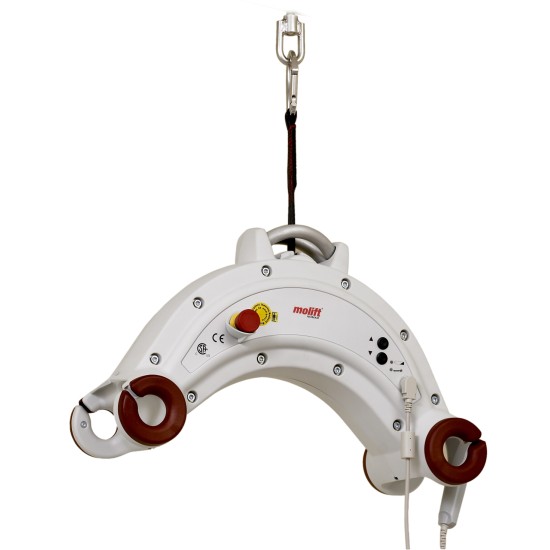 Stock:

In Stock

Model:

22160

SKU:

22160

JAN:

2145
Molift
Molift Nomad ceiling hoist (SWL 160 kg)
Description


Molift Nomad Ceiling Hoist (SWL 160 kg): Revolutionizing Comfort and Safety
Introducing the Molift Nomad, a ceiling hoist that redefines the art of patient lifting. Designed with user comfort and caregiver convenience in mind, the Molift Nomad boasts a range of features that make it a top choice for any care setting. Here's why it stands out:
Spacious and Comfortable Hoisting
The Molift Nomad features an integrated 4-point suspension, providing users with spacious and comfortable hoisting positions. This design ensures that patients are not only lifted securely but also in a manner that prioritizes their comfort.
Versatile Sling Compatibility
The Molift Nomad is compatible with a range of Molift slings, offering flexibility in patient care. This adaptability allows for a customized approach to meet the specific needs of each individual.



Safety at the Core
Safety is paramount with the Molift Nomad. It comes equipped with electronic functions, including overload protection, emergency lowering, and emergency stop. These features provide peace of mind to caregivers, ensuring that hoisting operations remain safe and reliable.
Effortless Room-to-Room Transfers
Thanks to its connection to a special rail system, the Molift Nomad enables easy room-to-room transfers. This seamless mobility enhances the versatility of the hoist, allowing patients to move between different spaces with ease.
User-Friendly Controls
Accessibility is key. The Molift Nomad offers user-friendly controls through the provided handset or integrated display. This ensures that both patients and caregivers can operate the hoist with ease, promoting a smoother patient transfer process.
Service Notifications and History
The integrated display is more than just a control panel; it also serves as a valuable caregiver's assistant. It notifies the caregiver when the Nomad is due for service and provides essential data on the hoist's service history, allowing for proactive maintenance and ensuring continued reliability.


Elevate your patient lifting experience with the Molift Nomad Ceiling Hoist. It's not just a hoist; it's a commitment to patient well-being, comfort, and safety. Choose the Molift Nomad for a superior patient care solution.
Specifications

Battery

NiMh 26,4 V-2,6 Ah

Material

Reinforced composite and aluminum

Battery charge time (hours)

4

Protection class

IPX4

Height (mm)

330

Rated performance

80 hoists at 75 kg and 500 mm

Hoisting interval (mm)

2000

Service software

Molift Service Tool

Hoisting speed 75 kg (mm/sec)

23

Weight (kg)

6,8

Length (mm)

522

Width (mm)

200